Akceptejo, automatic reception
Thanks to Akceptejo, your guests will be welcomed professionally. You can use Akceptejo as a permanent solution or as a backup solution in the absence of the reception clerk.
Quick to set up
Can be set up as a "permanent reception" or as a "backup"
No interaction with other systems required
High-tech image
start now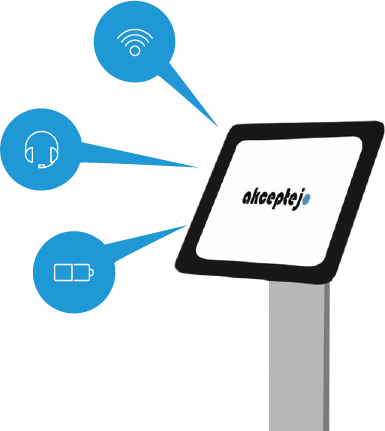 You only get one chance to make a first impression!
Don't leave the receiving and registering of visitors to chance. You only get one chance to make a first, good impression! Thanks to Akceptejo, your reception will be manned at all times and the professional welcome of visitors will be guaranteed, day and night, 24/7.
Increase the efficiency of your employees.
A quality welcome, always!
Easy to manage and use
Cost saving
start now
Save
Thanks to Akceptejo, a manned reception is no longer required; in other words, you can deploy your staff more efficiently without sacrificing quality.
Everything is measurable
Thanks to Akceptejo everything is measurable, which means you can adjust the performance of your business and improve!
Consult checkin/checkout.
Visitor status on request.
Calculate average waiting time and link goals to this target.
Number of visitors on request (fire safety).
start now